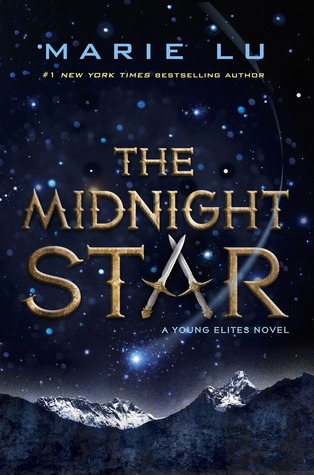 Series: The Young Elites, #3
Genre: Fantasy, Action/Adventure
Published: October 11, 2016//Putnam
Format: Hardcover, 314 pages
Rating: 4/5 stars
Summary (Goodreads): Adelina Amouteru is done suffering. She's turned her back on those who have betrayed her and achieved the ultimate revenge: victory. Her reign as the White Wolf has been a triumphant one, but with each conquest her cruelty only grows. The darkness within her has begun to spiral out of control, threatening to destroy all she's gained.
When a new danger appears, Adelina's forced to revisit old wounds, putting not only herself at risk, but every Elite. In order to preserve her empire, Adelina and her Roses must join the Daggers on a perilous quest—though this uneasy alliance may prove to be the real danger.
---
Our journey will fail, and we will pay for it with our lives.

page 185
Hello, hello! I've been in a little bit of a slump (hence the lack of posting), but I forced myself to read (never thought I'd say that) and ended up racing through this book. It was a good morning.
There's something about The Young Elites. I love the writing, the characters, the plot, but every time I pick up the books, it takes me forever to get into it. This was the problem, I think. So once I got past page 65 (where I had been for a while), I was done within two hours. For the last book in the series, I was not disappointed (only in myself for taking this long). Adelina has always been a great character study, with her quests for power and destruction as she tries to right the wrongs against the marked, or malfettos. She's no hero in any way, using reverse discrimination instead of equality to "fix" the problems. However, in the beginning of the story, the whispers in her head are starting to get so loud that she can't hear others tell her when enough is enough, it seems. She's killing, wrecking havoc as she works her way through villages and kingdoms. The other Elites, Enzo, Violetta and Rafaelle, are coming to the conclusion that there is now an opening between the Underworld and the normal world, a tear between immortals and mortals. In order to fix this, all of the Elites must come together, despite huge differences and grudges, to save the world.
Seeing all these characters come together, push aside or repair their wounds and problems, because they know what they need to do, was an amazing thing to read. Trust doesn't come easily to any of them, but Adelina works hard enough to make it count. Her sister, Violetta, is getting sicker and closer to death each day, while each of the Elites seems to be feeling a darkness around them more and more. There are sacrifices that need to be made, and not all of them are willing to give them (cough Adelina).
As always, Marie Lu's characters are amazing. Magiano is my favorite, so I loved getting some backstory; Terren has always fascinated me; Maeve is a BAMF; Violetta deserves better. Reading about them all coming together and solving problems was so much fun (until you get to the death part, sorry). There are definitely some characters in this book that could have their own spin-off series (please, Marie). I do wish I had more time with these characters before the book (and series) ended.
I love a good group quest, with myths and near-death experiences, but this felt just a little bit too short. These books have never been long ones, but after I finished and got over how emotional the ending was, I realized how small the plot was. 315 pages isn't a lot of time to do a trilogy finale justice, and I think that Lu did the best she could in such a short amount of pages. I would have liked to see a bit more going on, some more complications, some more blood spilled. Although the ending may disagree with what I'm saying, it felt too easy.
I've never reviewed any of the other Young Elites books, but this was a good conclusion. Not my favorite, but it wraps up everything enough for you to put it on the shelf with the other two and feel satisfied. Or unstable. Depends.
xx, J