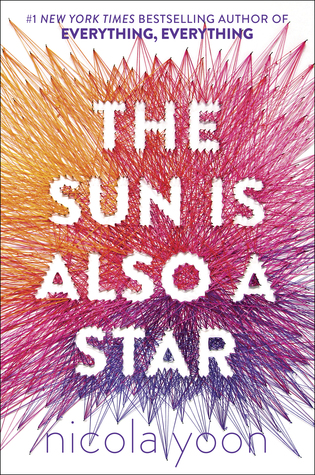 Genre: Young Adult, Contemporary, Romance
Format: Hardcover, 348 pages
Published: November 1, 2016, Delacorte Press
Source: Christmas (!!)
Rating: 4.75/5 stars
Summary (Goodreads): Natasha: I'm a girl who believes in science and facts. Not fate. Not destiny. Or dreams that will never come true. I'm definitely not the kind of girl who meets a cute boy on a crowded New York City street and falls in love with him. Not when my family is twelve hours away from being deported to Jamaica. Falling in love with him won't be my story.
Daniel: I've always been the good son, the good student, living up to my parents' high expectations. Never the poet. Or the dreamer. But when I see her, I forget about all that. Something about Natasha makes me think that fate has something much more extraordinary in store—for both of us.
The Universe: Every moment in our lives has brought us to this single moment. A million futures lie before us. Which one will come true?
---
I finished this last night, but I had to wait a little while to get my thoughts in a coherent order before I could write this. I've read Everything, Everything, but while that book was cute and twisty and slightly disappointing at the end, The Sun is Also a Star does the opposite of disappoint. It's eyeopening, romantic, heartbreaking and all-around beautiful (even the cover). Although, yes, it is a straight romance, both characters represent immigrants into American (specifically, New York City) as well as different types of racism and family issues.
"People are staring at us," I say.

"It's because you're so beautiful," he says back, without missing a beat.

-page 317
Daniel is the son of Korean immigrants and is under a huge amount of pressure to go to medical school, even though he just wants to write poetry. Natasha immigrated to NYC when she was eight from Jamaica, and is being deported late in the evening of the day the story takes place. They meet very coincidentally and somehow end up spending most of the day together as they talk about their families, problems, views on life and fate. They have a very interesting chemistry and dynamic in their relationship, but it's wonderful to read them fall in love in one short day. I'm a huge fan of the "one day" set-up and this novel just made me love it even more. Another unique thing about the style of The Sun is Also a Star is the many points of view. Of course, Daniel and Natasha are the main focus, as they should be, so their chapters are longer and more present. But the addition of other minor characters' stories add another layer to the story and give more detail to small details that become very important as the story goes on. It was very interesting to see the full web being woven throughout the story and know how all the pieces fit together, from the main characters to their immigration lawyer and his mistress to the security guard at a hotel to the woman Natasha unknowingly saves from suicide.
"I'm going with you to your house, and then we're going to take a cab to the airport, just the two of us. Then I'm going to watch you on a plane and feel my heart get ripped out of my fucking chest, and then I'm going to wonder for the rest of my life what could've happened if this day hadn't gone just exactly the way it's gone."

He stops to take a breath. "Is that okay with you?" he asks.

-page 305
Honestly, most of this book made me want to cry. Especially the ending. The progression of these characters, even though in short amount of time, was amazing (and realistic). Daniel's belief in fate, meant-to-be, the universe and the signs it gives are almost the exact opposite of Natasha's views. She's scientific, slightly pessimistic, not willing to believe in God or love or fate because of her past, her father, her near future deportation. When they are together, however, they have these conversations about life and science and culture that are very meaningful and important. I loved the blunt way of addressing racism and treatment that their cultures receive, especially Natasha's correction of the "melting pot" phrase most use to describe America:
America's not really a melting pot. It's more like one of those divided metal plates with separate sections for starch, meat, and veggies.

-page 128
It's so nice to pick up a book and have it not be marketed as solely about immigration and other cultures and races (because let's face it, right now the default is straight and white, which is not cool). It's not thrown in your face, but instead elaborates on the story and makes it more memorable. I'm really trying to read more diverse books, so: yay! This counts! And, it was amazing. Read it. It's romantic and super sad and funny and all you'll want to do is protect Daniel and Natasha even though YOU CAN'T and it will make you very sad. Also, the ending is so satisfying and totally makes you cry at how well incorporated everything is because Nicola Yoon is very good at crushing my heart. It's no wonder this was on the Entertainment Weekly top ten list of 2016.
x, J