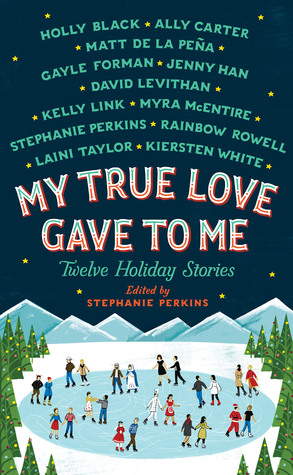 Genre: Young Adult, Romance, Holiday
Format: Hardcover, 321 pages
Published: October 14, 2014, St Martin's Press
Source: school library
My rating: 3.5/5 stars
Summary (Goodreads): If you love holiday stories, holiday movies, made-for-TV-holiday specials, holiday episodes of your favorite sitcoms and, especially, if you love holiday anthologies, you're going to fall in love with My True Love Gave To Me: Twelve Holiday Stories by twelve bestselling young adult writers, edited by international bestselling author Stephanie Perkins. Whether you enjoy celebrating Christmas or Hanukkah, Winter Solstice or New Year's there's something here for everyone. So curl up by the fireplace and get cozy. You have twelve reasons this season to stay indoors and fall in love.
---
My attempt to read holiday books this year consists of two (so far): What Light by Jay Asher (which inspired me to blog about putting down books without finishing them,  so it's safe to say I didn't like it) and this book. I'm not doing very well. Maybe I'll go read a bunch of Harry Potter Christmas scenes.
Overall, this book was not bad, but not great, either. The problem with using all these different authors and styles of writing is that there were very strong pieces, in the middle ones, and some I did not like at all. So, I'll break up my favorites and my least favorites.
THE BEST:
MIDNIGHTS (Rainbow Rowell)
No one should be surprised that the best story in this book is by Rainbow Rowell. She is a goddess. The two main characters, Mags and Noel, are so lively and lovable, the plot is continuous and makes sense, it's funny and cute and heartwarming.
"I never change."

Mags laughed. "You're a kaleidoscope. You change every time I look away."
The format (New Year's Eve in four different years) set up the storyline perfectly, and it worked very well as a short story: you didn't need to know the backstory of everyone, and the ending was satisfying. Short and sweet.
WELCOME TO CHRISTMAS, CA (Kiersten White)
While some of these stories were just absolute fluff (not a bad thing!), I really love the meaningful ones. Maria, the main character, is not happy with her life at all, her job, her family, her friends. But when the diner she works at gets a new cook, Ben, who has a knack for knowing what people want to eat, she ends up developing into a much more positive person. It's such a nice change throughout the story as it deals with family issues, abusive relationships, romance, and overall positivity.
"And this weekend, that horrible green Jell-O with whipped cream, pineapple, and shredded carrots no one in their right mind would ever order, but that you made special for Lorna. She cried. You make Lorna cry with Jell-O. None of this is normal, Ben."
BEER BUCKETS AND BABY JESUS (Myra McEntire)
Okay, I love Myra McEntire even more after reading this. Known prankster Vaughn accidentally sets a local church barn on fire with firecrackers (long story), so he's forced to help the church put on their yearly Christmas pageant. He helps his classmate Gracie and her father, the Pastor of the church, solve problems the night of the show. It's another one for the character development fans, and it's pretty funny (the Pastor has a swear jar for his family. I love it.).
I didn't know the church's stance on alcohol, but Pastor Robinson looked like he could use a margarita.
THE WORST:
THE LADY AND THE FOX (Kelly Link)
This one was pretty boring and confusing. And weird. Really weird. There's some creppy magic at the end that didn't really make sense, and I was pretty uncomfortable with the love interest and the passage of time wasn't clear.
YOUR TEMPORARY SANTA (David Levithan)
I couldn't tell how this was supposed to be romantic, it just didn't have a good theme or tone. The writing was awkward and I never really knew what was going on.
KRAMPUSLAUF (Holly Black)
I finished this book less than 24 hours ago and I have no recollection of this story other than the fact that I didn't like it. Whoops.
THE GIRL WHO WOKE THE DREAMER (Laini Taylor)
This was the last story in the book, so I was expecting something that would end nicely and really contribute to the ~holiday magic~, but I was SO DISAPPOINTED. I've never been a real fan of Laini Taylor, but this piece dragged on and on, I was so bored and confused and just wanted it to be over. I would've changed up the order to have this one closer to the beginning and end with something a little more spirited and cute for the holidays.
The overall effect of this book was slightly underwhelming. The ones not included on the best/worst lists were enjoyable, but not as memorable as those listen above. This might be one of those collections that you only read some of.
Happy holidays!
-J