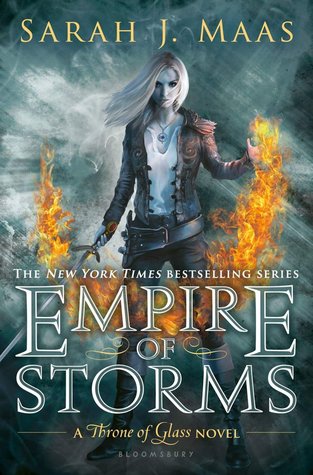 Series: Throne of Glass #6
Published: September 6, 2016 (Bloomsbury)
Format: Hardcover, 693
Source: Borrowed
Rating: 3/5 stars
Summary: The long path to the throne has only just begun for Aelin Galathynius. Loyalties have been broken and bought, friends have been lost and gained, and those who possess magic find themselves at odds with those don't.
As the kingdoms of Erilea fracture around her, enemies must become allies if Aelin is to keep those she loves from falling to the dark forces poised to claim her world. With war looming on all horizons, the only chance for salvation lies in a desperate quest that may mark the end of everything Aelin holds dear. [Goodreads]
---
This is probably my least favorite book of Sarah J. Maas' so far. After the events of Queen of Shadows, everyone had very high hopes for this installment of the Throne of Glass series. Although I was still happy with it overall, I wasn't as enthralled as I had hoped to be.
This series has always been known for its several point of views and storylines. While I love all (or most) of the characters, the zigzagging of the narration and plot in EOS was confusing and frustrating to me. It mostly follows Aelin and Rowan (along with Dorian, Aedion and Lysandra), but along with the main group of characters, the book follows Manon, Elide, and several others. I understand that when the stories come together, the overall effect is greater, but while in the rising action of the story, it's confusing and kind of boring (whoops sorry that I just want to read about Aelin).
However, as always, the characters were very complex and well written, along with the plot. Aelin continues to develop with her powers and her role in the world, which is very fun to read about. Her relationship with Rowan continues to grow, so readers will get some romance, and not just with those two. One relationship (I won't say which, don't worry) felt very rushed and purely physical (ew) which is definitely not what we were all looking for, but other than that, there were plenty of cute and funny moments to soften the emotional blow that was this book.
A lot happens here, but at the same time, not a lot happened. There was no huge war or giant journey, but more world-building and development in the overall conflict. The ending was, of course, a huge disaster that ended with someone sailing off into the sun, but SJM never fails to keep her audience waiting impatiently for her next book, no matter what series it's in.
Although this wasn't one of my favorites, I still think that it was a good installment of the series. It's hard to keep a series going after having a book like Queen of Shadows, which ended happily and with a lot of stuff going on, but this felt more like a filler than anything else. I'm excited for the next book, mostly because I feel like it will be a lot more interesting and have more action going on.