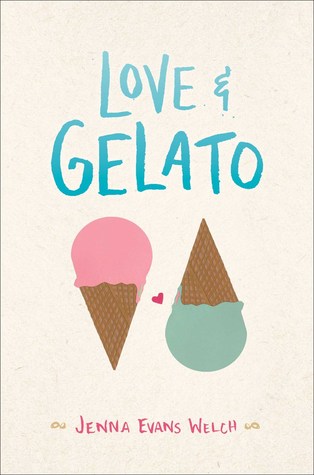 Genre: Young Adult, Romance
Format: Hardcover, 389 pages
Published: May 3, 2016
Source: Library
My rating: 4/5 stars
Summary: "I made the wrong choice."
Lina is spending the summer in Tuscany, but she isn't in the mood for Italy's famous sunshine and fairy-tale landscape. She's only there because it was her mother's dying wish that she get to know her father. But what kind of father isn't around for sixteen years? All Lina wants to do is get back home.
But then she is given a journal that her mom had kept when she lived in Italy. Suddenly Lina's uncovering a magical world of secret romances, art, and hidden bakeries. A world that inspires Lina, along with the ever-so-charming Ren, to follow in her mother's footsteps and unearth a secret that has been kept for far too long. It's a secret that will change everything she knew about her mother, her father—and even herself. [Goodreads]

---
"You know, people come to Italy for all sorts of reasons, but when they stay, it's for the same two things."
"What?"
"Love and gelato."
Hey! A book I liked! They seem to be few and far between lately, but we can fix that. *buys 38947 books* I wasn't sure what to make of this book at first, but it ended up being a really nice read (I finished it in one day–it was great). The main character, Lina, was relatable, awkward, in love with gelato, so I immediately liked her. She's still getting over the loss of her mother, who she was very close with, and the fact that she's being torn away from her grandparents and her best friend for the summer and indefinite future to live in a cemetery with some guy she's never met in Italy. So, her reaction is as expected (that's to say, not so good). However, she has a change of heart (in a YA book? What a shock!) once she meets Ren, who becomes her best friend. She then makes new friends and goes on a journey to find out what really happened when her mother lived in Italy while also developing a relationship with her father, Howard. Many elements of this novel were very strong, which contributed to an overall memorable book.
The plotline of Lina's mother was probably my favorite part of the story. She believes she knows her mother very well, until she moves to Italy and realizes there was this whole part of her mother's life she didn't know about. With the help of an old journal and Ren, Lina is able to figure out what happened before she was even born and she understands her mother better than she ever did. My favorite thing about this plot was that it spurred a lot of character development and affected other areas of the story, showing how important it is.
The journal also becomes a part of Lina and Ren's relationship, which is another main area of the novel. Ren is a perfect love interest: he's got great hair, he's funny, he's adorable, he goes wherever you need him to. In the beginning of the story, it seemed as though the romance plot was going to take a totally different route, but I loved the way it ended up, and how the friendship became stronger instead of just starting out as romantic. You can't go wrong with friends first when it come to Young Adult fiction.
This was a great book to read on a lazy Saturday when I didn't feel like doing homework. I would love to take it on a beach trip or somewhere the sun is shining or there is Italian dessert. Definitely a good summer-y read.