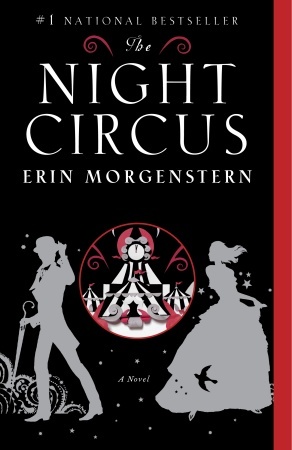 Genre: Historical Fiction, Romance, Fantasy
Published: September 13, 2011
Format: Paperback, 512 pages
Source: Bought at Annie's Bookstore in Maine
Rating: 4/5 stars
Summary: The circus arrives without warning. No announcements precede it. It is simply there, when yesterday it was not. Within the black-and-white striped canvas tents is an utterly unique experience full of breathtaking amazements. It is called Le Cirque des Rêves, and it is only open at night.
But behind the scenes, a fierce competition is underway: a duel between two young magicians, Celia and Marco, who have been trained since childhood expressly for this purpose by their mercurial instructors. Unbeknownst to them both, this is a game in which only one can be left standing. Despite the high stakes, Celia and Marco soon tumble headfirst into love, setting off a domino effect of dangerous consequences, and leaving the lives of everyone, from the performers to the patrons, hanging in the balance. [Goodreads]
---
"Ah," remarked one guest when the topic arose. "You prefer not to see the gears of the clock, as to better tell the time."

PAGE 71
I'm not normally interested in historical fiction. That's just something to know about me. However, there are always those books that I love. This was so close to being loved, there were just a few things I wasn't head-over-heels for. For one, the pacing of the story is SLOW. Every chapter was at a different time and place, making it very hard to keep up with. There were parts that honestly didn't have a great part in the story, which was slightly boring. I loved the chapters about Bailey, Celia, Marco, Poppet and Widget, but everything else just made me impatient to get back to the important stuff. Second, I didn't really connect with/like Celia or Marco, the main characters. Both of them were a little too intense for me and seemed slightly crazed about the whole competition thing.
Aside from Marco and Celia, I loved the characters. Specifically, Poppet, Widget, and Bailey. The three of them kind of have a story line together, and I enjoyed reading about them separately and together. Poppet and Widget are twins, and their interactions and *magical powers* were super cool and interesting.
She passes by Poppet and Widget, where Poppet is teaching the marmalade kittens to climb on her shoulders and Widget is pulling book after book from the library's well-stocked shelves. Eventually Poppet drags him forcibly from the room to prevent him from spending the duration of the party reading.

PAGE 304
Overall, I really enjoyed this book, but it took me a while to get through. I'm normally a fan of faster paced books, so this wasn't exactly my cup of tea. I liked it, though, and if you're a fan of historical/fantasy, I'd definitely tell you to check it out!
Happy reading,
Julia 🙂